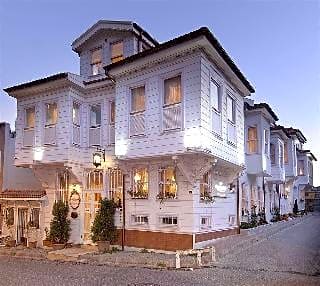 友だちにメールで教えよう!
このサイトが役に立つと思ったら… 友達にもシェアしよう!
下のフォームに記入して簡単にメール送信しましょう。
弊社ではメールアドレスを保存したり、お客さまにもお友だちにも望まれないメー
ルを送ったりすることはありませんので、どうかご安心ください。
Hotel Darussaade Istanbul is located in the very heart of Istanbul's historic town. This delightful hotel is a carefully refurbished Ottoman building, dating back to the 19th-century and is just a few steps away from Topkapi Palace and the Blue Mosque.

The protected construction of Hotel Darussaade is an excellent display of Istanbul's Ottoman architecture. Immense care has been invested to the refurbishment and its original characteristics enhance its alluring charm for guests.

All rooms are elaborately decorated and offer their own unique personality in relation to Darussaade's past. Muted tones, vintage furnishings and ornate rugs can be discovered throughout its grand interiors.

The excellent location of Hotel Darussaade Istanbul is perfect for exploring the historic charms of Istanbul. Following an enchanting day of sightseeing, guests can enjoy a relaxing stroll along the seashore, and admire beautiful Asia. Then, Darussaade's soothing sauna is the ideal way for guests to complete their glorious day.
予約する方法
Darussaade Istanbulで予約するのが簡単で安全でございます。ご希望の日付を選択します。そして、フォームを送信するために「料金を確認し」というボタンをクリックします。 客室タイプと料金はお宅の画面に戻った後で、画面の中央にある部屋の情報を読むと画面の右側にある「予約する」というボタンをクリックすることによって希望の料金を選択することができます。希望の客室タイプを選択した後で、「ご予約を完了」というフォームに転送されます。その時に「滞在の詳細」を確認して、「ゲストの詳細」という部分の空欄でご自分の詳細のことを書きます。ご自分の名前とメールアドレスが正しく入力されていることを確認してください。 すべての重要な情報を記入した後で、「ご予約を完了」というボタンをクリックしてください。ご自分のセキュリティを確保するために、私たちがクレジットカード番号を暗号化し、非使用可能な形式にエンコードする安全なコマースサーバーを使います。
地域情報
空港

Istanbul, Turkey (IST-Ataturk Intl.) - 8.50 mi
Istanbul, Turkey (SAW-Sabiha Gokcen Intl.) - 18.57 mi
Bursa, Turkey (BTZ) - 53.49 mi
Bursa, Turkey (YEI-Yenisehir) - 59.62 mi

ミュージアム

Great Palace Mosaic Museum - 407 f
Museum fur turkische und islamische Kunst - 0.28 mi
Media Museum - 0.38 mi
Archaologisches Museum - 0.52 mi
Istanbul Archaeological Museum - 0.57 mi
Islam Science and Technology Museum - 0.66 mi